How to choose a snow tube?
908
23 January, 2020
An inflatable sled or a snow tube is popular with winter adventure-seekers. The ranks of snow tube fans are growing year after year. Budget-friendly and easy to store, they can go very fast and give incredible joy to kids and adults both.
There is such a great variety of snow tube sizes, shapes and colors on offer today, that it may be quite challenging to choose the right one for you. In this article, we are going to take a look at some most frequently asked questions:
What is a snow tube?
Which parameters should we consider first when choosing a snow tube?
How to use a snow tube?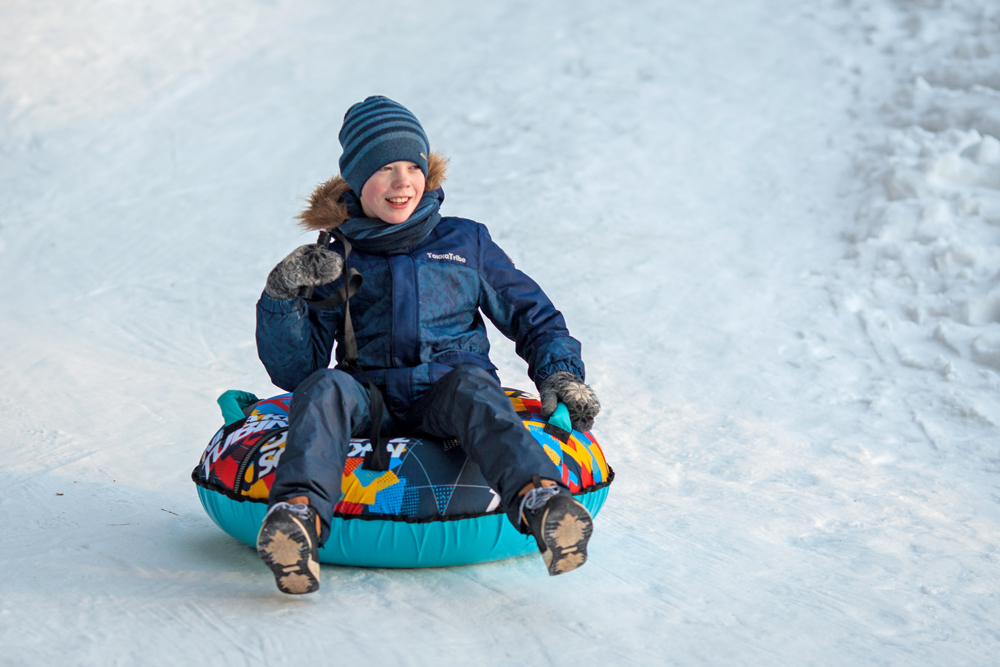 What is a snow tube?
A snow tube is a sled that looks like a big donut. It consists of a cover and an inflatable inner tube. There is an appropriate tube size to go with each cover. The tube is inserted into the cover and inflated with a compressor or an air pump so that it fills the entire inner space of the cover. When the tube becomes taut, the nipple is covered with a cap, and the tube is ready for use.
Which parameters should we consider first when choosing a snow tube?
Diameter
The snow tube diameter depends on the height of the person using it. Both an adult and a child should be able to reach the snow tube handles with their hands and the surface of the slope with their feet (to control their movement). Generally, children under 100 cm height should use snow tubes 70-80 cm in diameter. If a snow tube is supposed to be used by children, teenagers and adults, it's better to buy a universal model 80-100 cm in diameter.
Seat size
Practice shows that a wider seat size is more comfortable to use. The best sitting depth providing stable and comfortable user position is 15-25 cm. You should know that the technical hole in the cover is located in the seat area. There are several ways to keep the hole closed, i.e. a zipper, Velcro stripes or lacing. A good quality zipper is the surest way.
Weight capacity
This parameter depends on the model, i.e. the inflatable tube diameter and quality. The snow tube's quality parameters should be in line with the established standards and support the load placed in the snow tube during its use.
Cover
A snow tube cover is under a lot of stress during use. The density of the materials used for cover may be variable (600 to 900 g/m2. For frequent use as well is for sliding down ice slopes it's better to use high-density PVC covers reinforced on the bottom. Besides, you should pay attention to the quality of seams and the handles that should be attached firmly to the cover.
Towing rope
All snow tube models come with sturdy nylon-6 towing ropes.
How to use a snow tube?
Any tube should come with a user manual establishing detailed requirements for the device's storage, use and pumping. Each snow tube model has its own use requirements, but there are some general rules that you should always follow:
slide down only the snow or ice hills (slopes);
the hill (slope) angle should not be over 20°;
the bottom of the hill (slope) should have enough space for the snow tube to slow down;
choose only the hills (slopes) without any obstacles, trees or shrubbery on them.
If you follow the use requirements, your inflatable sled (snow tube) will serve you for many years! Have fun!